To:

The United States Senate
LGBTQI Catholics and Allies: We support the Equality Act!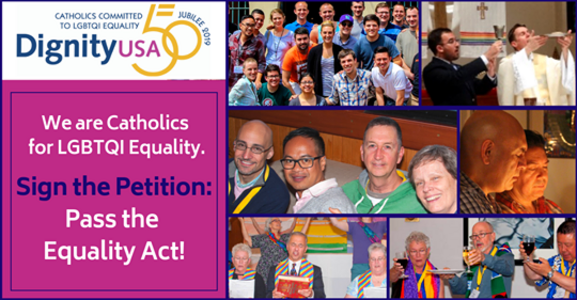 DignityUSA members and allies are petitioning the United States Senate to pass the Equality Act, unamended.
Why is this important?
The Equality Act, a bill jointly introduced in the US House of Representatives (HR 5) and US Senate (S. 788), would amend the Civil Rights Act to prohibit discrimination on the basis of sexual orientation and gender identity. The US House of Representatives voted in favor of passing the Equality Act on May 17, 2019. The bill now moves to the Senate, where it faces an uncertain future. If passed, it would provide consistent nondiscrimination protections for LGBTQI people in all aspects of their lives, including employment, housing, education, and more. These protections would occur at the federal level, ending the patchwork of protections that vary from state to state. It's time for full and equal protections for all!
The U.S. Conference of Catholic Bishops strongly opposes the Equality Act, using questionable arguments that are counter to our understanding of the Catholic faith. DignityUSA and our members represent the significant majority of Catholics who believe in equal protections for all vulnerable groups in society.
In January 2019, the Pew Research Center found that 69% of Catholic Republicans and 84% of Catholic Democrats believe homosexuality should be accepted by society. DignityUSA has 50 years of experience advocating for LGBTQI acceptance in the church and society – and we're not stopping now. Are you with us?
Add your name and join us in telling Congress to pass the Equality Act today!
LGBTQI people live in every part of our country, as members of virtually every family and deserve the full protections of our nation's laws. This means equal access to public services, including health care, housing, education, and employment regardless of gender or orientation. It is time to remove the many structural barriers faced by the LGBTQI community for too long. It is past time to pass the Equality Act.
Sign the petition and raise your voice in support of the Equality Act. Stand with the majority of US Catholics in who believe in respect and justice for all!
Learn more at www.DignityUSA.org