To:

Interfaith advocates around the world
LIVE OUT THE VISION FOR A GLOBAL ETHIC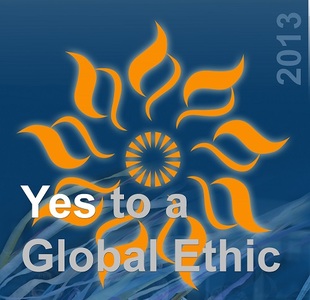 The time is now are we are the ones we've been waiting for:
Affirm that a common set of core values is found in the teachings of the world's religions, and form the basis of a global ethic. Sign the global ethic and pledge to live out the vision toward a just, peaceful, and sustainable world.
Why is this important?
Twenty years ago, more than 100 global faith and spiritual leaders declared a shared vision of the world's critical challenges, and what we can do in harmony to eradicate these problems.
While we celebrate this pioneering global ethic, the work toward true interreligious and human harmony continues. Our generation lives in the face of the same struggles:
Continuous war, division, poverty, hunger, violence, ecological danger, and political dysfunction toward achieving true, lasting harmony. And yet, the world is still populated by a groundswell of caring, collaborative, and eager people.
The innovators of contemporary interfaith trailblazed; their declaration to fix a world languishing presented a CALL TO ACTION we as millennials are better equipped to accept than any generation before.
It is time for a fundamental change of hearts and minds, to act harmoniously with one another and our earth, transcendent of boundary and creed.
THE GROUNDSWELL FOR A BETTER FUTURE BEGINS WITH THIS PLEDGE. SIGN AND DECLARE:
We are interdependent. We take individual responsibility for all we do. All our decisions, actions, and failures to act have consequences. We consider humankind our family. We commit ourselves to a culture of non-violence, respect, justice, and peace. We must strive for a just social and economic order in which everyone has an equal chance to reach full potential as a human being. Earth cannot be changed for the better unless the consciousness of individuals is changed first.
We pledge to increase our awareness by disciplining our minds, by meditation, by prayer, or by positive thinking. Without risk and a readiness to sacrifice there can be no fundamental change in our situation. Therefore we commit ourselves to this global ethic, to understanding one another, and to socially beneficial, peace-fostering, and nature-friendly ways of life.
WE INVITE ALL PEOPLE, RELIGIOUS, SPIRITUAL, AND ETHICAL, TO DO THE SAME.
Signing is easy, but committing takes guts. Will you:

1) Commit to and sign the Global Ethic!* ( Full text of the Towards a Global Ethic declaration is downloadable by clicking on "Campaign website" on the left sidebar.
2) Share how you will live out the global ethic for a better future for all.
3) Start a conversation with your teachers, faith leaders, family partners, and especially those with whom you seek to find common ground: like your grandparents, co-workers, and in-laws!
4) Ask your neighbors to sign, too. Use Facebook, e-mail, and around the old-fashioned water cooler . Tip: If a debate erupts, steer the conversation toward your common core values.
5) Pick a partner, pick a common cause, and pick a time to act together.
6) Let go of hate. Live out the vision.
How it will be delivered
The 2013 signers of the Global Ethic agree to live out the vision for just, peaceful and sustainable action toward interfaith harmony. Signers become part of the Parliament of the World's Religions 20th anniversary celebration of the pioneering Global Ethic. Signers with vision can be recognized in the Parliament's anniversary programming, and presented to leaders who will join us in this commitment.