To:

Members of the U.S. Congress
Tell Congress To Vote For A Budget That Helps Flint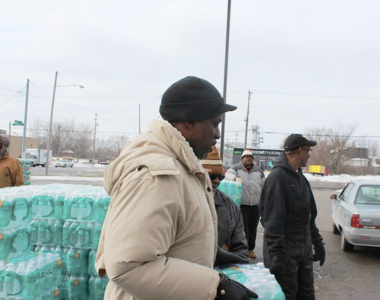 As clergy, and faith leaders, and people of many faiths, we urge you to support The People's Budget, introduced by the co-chairs of the Congressional Progressive Caucus, Congressmen Keith Ellison and Raul Grijalva. The Federal budget should reflect our values of caring for the most vulnerable, and prevent tragedies like what happened in Flint, Michigan.
Why is this important?
The recent tragedy in Flint, Michigan makes all too clear what occurs when severe austerity budgets are implemented: innocent people suffer. And all too often, it's low-income and communities of color that suffer the most.
That's why the People's Budget includes $765 million for Flint to replace toxic pipelines and provide needed health, education, and other services for our people exposed to lead.
The teachings of our respective faiths are steeped in the understanding that we have a communal responsibility to care for the most vulnerable in society. Feeding the hungry, clothing the naked, ensuring that all workers receive a fair wage are not simply policy positions: they are sacred obligations.
The People's Budget would also invest in housing, education, transportation, clean energy and safe water to create millions of jobs. It would increase educational opportunities by providing Pre-K and debt-free college for all. And it would fulfill our communal obligations to our parents and grandparents by increasing, not cutting, Social Security and health care. In short, The People's Budget, if passed, would set our nation on the path toward a fair and healthy economy.
You can read more about the "People's Budget" here:
http://1.usa.gov/2200IQb
Our government should serve all of its citizens. By bolstering the social safety net for those who most need it and prioritizing measures that reduce the growing inequality in our nation, The People's Budget does just that, and it deserves the support of Congress. We urge you to vote for it when it comes to the House Floor.
Thank you for your consideration.
How it will be delivered
This letter – which is being organized in partnership with Bend the Arc Jewish Action – will be shared with Members of Congress as they consider their votes next week. Our goal is 5,000 signers before the big press conference on March 15th.