To:

President Obama & Secretary Jeh Johnson, Department of Homeland Security
Tell the Obama Administration: Save Rosa from being deported

Sanctuary Movement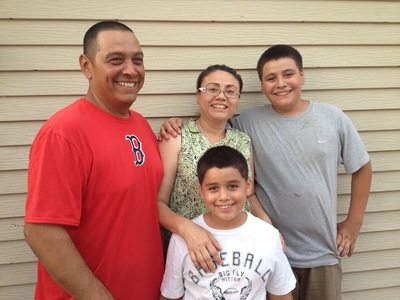 Close the deportation case of Rosa Robles Loreto, and take executive action for all families facing deportation across the country. Until then, my church will continue to provide sanctuary for Rosa – a loving wife and mother.
Why is this important?
In Tucson we witness the disappearance of community members by Border Patrol every day. We see mothers and fathers taken from our neighborhoods, the pews in our churches, the desk next to us at work.
We cannot bear to see any more families torn apart—which is why we welcomed Rosa into Sanctuary on August 7. She will stay within the safety of our church grounds until her deportation order is closed.
Through the power of Sanctuary and the power of our petition, we stand in-between a deportation order and a mother in our community. As people of faith, when we witness things that are against the will of God (like a mother torn away from her children), we are called to act.
Rosa has two beautiful boys, a loving husband, and has lived in Tucson since 1999. She is an active member of the community, volunteers at her church, her sons' school, and their baseball teams. But she was ordered to be deported after a minor traffic violation. Like millions of other undocumented immigrants in the United States, Rosa's case is considered low-priority for ICE—she has no criminal history, is a caretaker for minors and has long-standing community ties. But she was in detention for 53 days and fought her immigration case through the courts to no avail.
Now, Rosa lives with an order of deportation hanging over her head and is not safe to move freely in her home community of Tucson. The only way to keep Rosa's family together is for Secretary Johnson to hear from you that her deportation must be stopped right now.
CAN WE HELP?
Yes. ICE officials have been directed to use "prosecutorial discretion" in cases like this, and showing Secretary Johnson that Rosa and her family have a community that supports and loves her will force them to review Rosa's case. It is critical we ACT NOW on her behalf.
Rosa cannot stay in sanctuary forever, and even a stay of deportation would need to be renewed each year—we need a real solution to stop family separation and stop deportations. The House of Representatives has failed to take up immigration reform, and now the President must act to expand deferred action for all undocumented people that will provide relief from deportation and a work permit. It's why we're also telling the Obama Administration: "Stop tearing apart families like Rosa's and take administrative action to grant Deferred Action for All."
OUR VALUES
Compelled by the demands of our faith to love our neighbor as ourselves, we offer Sanctuary to our neighbor Rosa so that she can stay with her family. Our scriptures command us to care for widows and orphan – which is why we must act now to *prevent* the separation of Rosa and her children.
We are joined by 17 other local congregations who are working alongside us to guarantee that Rosa is able to watch her sons – Gerardo Jr and Jose Emiliano – grow up. We want to make sure that she is there cheering them on with all the other mothers and fathers in the stands.
So we ask that you join us in asking Secretary Jeh Johnson to close Rosa's deportation order and encourage President Obama to take action and expand deferred action for all 11 million undocumented people who are already part of our congregations and communities.