To:

Sonoma County Residents
Sonoma County — United in Kindness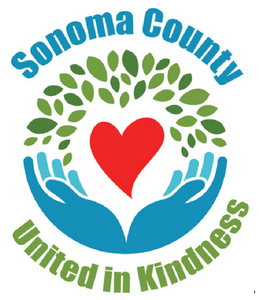 Add your name and your voice to Sonoma County's Declaration of Unity.
Why is this important?
Communities like ours around the country—and around the world—are gathering in solidarity to denounce acts of violence and hate. An urgency for peace and reason is bubbling up like a geyser ready to burst in a powerful show of force for change.
The Interfaith Council of Sonoma County (ICSC) invites you to take part in a campaign titled "Sonoma County—United in Kindness." The painfully tragic events in Christchurch, New Zealand, the Pittsburgh synagogue shootings and other horrific incidents underscore how compelled we are to take a stand. It is time. Let's stop the fast-moving fire of hatred with a stream of tangible and sustainable acts in our workplaces and communities.

First action:
ICSC with your help will gather thousands of signatures on the declaration, Sonoma County—United in Kindness (see below). We've done this before with the 2016 campaign rejecting Islamophobia. Please sign the declaration yourself and share it with others on social media. Encourage friends, neighbors and strangers to envision Sonoma County—United in Kindness. Unify our community in a desire to build good will, harmony and kindness.
Together, not alone, we can change our world and positively impact our neighborhoods, our workplaces, and how we treat each other every day.
Next action:
Take sensible actions for a sustained campaign to ensure a Sonoma County—United in Kindness. We will call on county and city officials, school district administrators, faith congregations, business leaders, police agencies, courts, radio and TV stations and other news media to embrace our vision and to come up with a sustainable plan of action. Dozens of local groups are already making progress toward positive change.
To succeed, this important campaign needs each one of us. Can you see downtown lamppost banners with "Sonoma County—United in Kindness"? How would a county united in kindness feel to you? As our campaign moves forward, be part of the groundswell. Offer your ideas and work on projects that empower your vision. Keep up with our meetings and activities by reading email updates and announcements.
Step forward now to create a safer, more humane and joyful community for ourselves and our children, a Sonoma County united in kindness. Sign the declaration! Pass it on!
(Read the declaration text, below.)
In hope and faith,
Mohammad K. Jabbari
Founding member, Interfaith Council of Sonoma County
Chair, Sonoma County—United in Kindness Campaign
[email protected]
_________________________________
A Declaration of Unity by Sonoma County Residents
SONOMA COUNTY—UNITED IN KINDNESS
We the undersigned believe that freedom from hateful speech, bullying, discrimination, and violence is a human right.
We believe all of us benefit from living in a diverse community.
Everyone, especially children and youth, requires a place to grow and learn in peace and safety, guided in kindness and caring.
We are proud that our half-million Sonoma County neighbors come from so many of humankind's backgrounds, beliefs, and traditions in pursuit of joyful and healthful living.
To sustain these strengths, we affirm trust in a social fabric that does not permit harm to individuals and groups based on distinctions of ability, age, appearance, ethnicity, gender identity, language, race, religion, sexual orientation, and socio-economic position.
We call on all Sonoma County residents to find ways to create this pluralistic social fabric. We call on our leaders in education, government, business, health, and faith to build, through education and initiatives in their areas of influence, a county that honors human rights.
In recognition of these desires for unity, we jointly declare Sonoma County—United in Kindness.
Sponsored by:the Interfaith Council of Sonoma County

Endorsed by:
Alternatives to Violence Project — North Bay Council • Appleseed Friends Meeting (Quakers) — Sebastopol • B'nai Israel Jewish Center — Petaluma • Board of Supervisors of Sonoma County • Center for Spiritual Living — Santa Rosa • City of Cloverdale, California • City of Cotati, California • City of Petaluma, California • City of Rohnert Park, California • City of Sebastopol, California • Comité VIDA • Commission on Human Rights of Sonoma County • Community Church of Sebastopol, United Church of Christ • Congregation Ner Shalom — Cotati, CA • Congregation Shomrei Torah — Santa Rosa • Elim Lutheran Church — Petaluma, CA • Emmaus Community in Sonoma County • First United Methodist Church of Santa Rosa • Homeless Action! • Indivisible Petaluma • Interfaith Sustainable Food Collaborative • Islamic Cultural Center of Northern California • Journey Center — Santa Rosa • Joyful Noise! Gospel Singers • LezResist! • Metropolitan Community Church of the Redwood Empire • Movimiento Cultural de la Union Indigena — Sonoma and Napa Counties • North Bay LGBTQI+ Families • North Bay Organizing Project — Santa Rosa • North Bay Organizing Project, Petaluma division • Of One Soul Project • Peace and Justice Center of Sonoma County • The Peace Crane Project • Petaluma Community Relations Council • Presbyterian Church of the Roses — Santa Rosa • Racial Justice Allies of Sonoma County • Redwood Forest Friends Meeting (Quakers) — Santa Rosa • Sonoma County Family YMCA • Sonoma County Japanese American Citizens League • St. Patrick's Episcopal Church — Kenwood • St. Stephen's Episcopal Church — Sebastopol • Sonoma State University Academic Senate • Team for Inclusivity, Diversity and Equity (TIDE) • Unitarian Universalist Congregation of Santa Rosa • United Church of Christ - Petaluma • Unity Church of Santa Rosa • YWCA Sonoma County