To:

President Obama, DHS Secretary Jeh Johnson, ICE Director Sarah Saldana
Tell the Obama Administration: Stop the Deportation of Asylum Seekers Hilda Ramirez and her son Ivan
RR

Campaign created by
Rev. Jim Rigby

Sanctuary Movement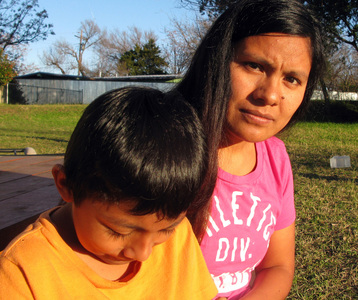 Close the deportation case of mother and immigrant rights leader Hilda Ramirez and her son Ivan; put an immediate stop to the raids on Central American families fleeing violence, and all unjust deportations; and grant Temporary Protective Status (TPS) to all who are fleeing violence in Honduras, Guatemala and El Salvador. Until then, St. Andrews Presbyterian Church will continue to provide sanctuary for the Ramirez family.
Why is this important?
Hilda Ramirez is an asylum seeker in danger of deportation to a country where her family will be subjected to violence, discrimination, and extreme poverty. A 28-year-old Mayan mother from San Marcos, Guatemala, Hilda fled to the United States with her 9-year-old son Ivan after facing threats of violence. Arriving at the U.S.-Mexico border in 2014 hoping to find safety, she was instead detained at the border and jailed at the Karnes detention center with her son in inhumane conditions for 11 months. There, Hilda participated in a courageous hunger strike with another 77 immigrant moms to shut down family detention centers.1
Hilda was eventually released on bond and forced to wear an ankle bracelet. After several months of staying in an Austin shelter for immigrants, the danger of impending ICE raids became overwhelming, leading Hilda and Ivan to seek Sanctuary in St. Andrews Presbyterian Church in Austin, Texas while she fights deportation orders for herself and her young son. Although she was previously unable to win her asylum case, she continues to appeal her case with the assistance of legal counsel.
After the recent decision from the Obama administration to target Central American asylum seekers for immigration raids and deportation, many immigrant communities have been left in a state of fear. As a result, many families and individuals in danger of losing their lives and loved ones are looking for safe haven and support with legal services. Already, more than 120 people have been apprehended in the raids, 77 people immediately deported, including parents with U.S. citizen children.2 Another round of raids has been announced, but no one knows where or when they will happen.
OUR VALUES
Families like Hilda and her son should not be targeted by immoral and unjust ICE raids. They should be provided the safety they seek, not met with further violence and discrimination. With continued raids announced, it is more important than ever that we stand with Hilda, Ivan, and all our immigrant brothers and sisters living in danger of deportation and separation.
On February 9th, 2016, Hilda and Ivan took the prophetic and courageous step to enter into Sanctuary at St. Andrew's Presbyterian Church in Austin, Texas. Hilda explains that, "I feel safe here. I don't think immigration agents will break down the door and take me away. That is why I came here."
Sanctuary is a place where God's love and protection is a living reality. Our faith demands that we treat refugees as neighbors. Our faith demands that we open our doors, even when others are shutting theirs. As people of faith and people of moral courage, we cannot stand idle in midst of the inhumanity of raids, deportation and detention. We must be in solidarity with Hilda, Ivan and our immigrant neighbors who are facing similar situations where a deportation could have fatal consequences when returned to their countries of origin. All families are sacred and each individual deserves justice, dignity and hospitality, regardless of their immigration status.
TAKE ACTION
By signing this petition, you are taking action to stand in solidarity with Hilda and Ivan, and all people suffering because of the United States' inhumane mass deportation system. Your support of immigrants and refugees as a person of faith or a person of moral courage can help us put pressure on the Obama administration to use their power to end unjust and inhumane raids and deportations.
Watch the video of our press conference at St. Andrews Church: https://vimeo.com/154776260
[1] "Mothers held at Texas detention centre go on hunger strike to demand release," The Guardian. April 1, 2015.
[2] "U.S. authorities begin raids, taking 121 illegal immigrants into custody over the weekend," The Washington Post. Jan. 4, 2016.